Introduction to Climate
In addition to its whitesand beaches and scenic mountain views, one of the things that make the Philippines more attractive to foreign tourists is the climate. The climate in the Philippines is tropical which is ideal for various outdoor activities like beach-bumming and mountain climbing. Depending on the topography and location in the country, the climate is classified further into five types: tropical rainforest, tropical monsoon, tropical savanna, humid subtropical and oceanic (both are in higher-altitude areas) characterized by relatively high temperature, oppressive humidity and plenty of rainfall. Climate is classified depending on the elevation and location in the country.
Tropical Rainforest
Tropical rainforest is characterized as hot, very humid, and wet. Normally, there is no dry season in a tropical rainforest climate, and even if there is, it is very short. Heavy rainfall is therefore expected throughout the year. Provinces with tropical rainforest climate are those located near the equator.
Tropical Monsoon
Tropical monsoon is characterized by more rainfall, or less pronounced dry season. This type of climate comes between tropical rainforest climate and tropical savanna climate.
Tropical Savanna
In contrast to tropical monsoon, tropical savanna has a dry season and gets less rainfall. Dry season can become severe 
Humid Subtropical
Humid subtropical climate is characterized by hot and humid summers, and cold to mild winters. Provinces with this type of climate are typically located at or near coastal areas.
Oceanic
Oceanic climate has cool summers and cool but not cold winters. It rarely experiences dry season as rainfall is evenly distributed throughout the year, however they may get constant storms which cause cloudy or overcast conditions.
Weather -vs- Climate
Weather is the combination of temperature, precipitation, cloud cover, winds, relative humidity, and air pressure as they are experienced on a DAILY basis. Climate refers to weather conditions of a place averaged over a 30-YEAR period.  The main elements of climate are temperature and precipitation.
 Weather vs. Climate | Image Source
Whereas weather refers to short-term changes in the atmosphere, climate describes what the weather is like over a long period of time in a specific area.  Different regions can have different climates. Weather tells you what to wear each day. Or as I like to say … climate is what you expect … weather is what you get.
 Weather vs. Climate | Image Source
Types of Climates
Aside from the types mentioned above, climate is also classified based on rainfall distribution.
The climate varies throughout the Philippines.  The map below depicts the different types of climate throughout the Philippine Islands. 
Seasons
The Philippines has two main seasons: rainy and dry also referred to as Summer and Winter. Rainy season is from June to early part of October while the dry season is from later part of October until May with months of April and May as the hottest and driest months. 
Temperature
Based on the measurement of all the weather stations in the Philippines, except Baguio, the average year-round temperature of the country is 26.6℃ (79.9 ℉). Cooler days are usually experienced in January with an average temperature of 25.5℃ (77.9 ℉). Warmer days, on the other hand, are experienced in May with an average temperature of 28.3℃ (82.9 ℉). Baguio, due to its elevation which is 1,500m (4,900ft) above sea level, has an average temperature of 18.3℃ (64.9 ℉). 
Average temperatures in the Philippines usually range between 21 °C (70 °F) and 32 °C (90 °F) with the average yearly temperature around 26.6 °C (79.9 °F). Temperatures can fluctuate between regions and depending on the season, however generally January is the coolest month while May is the warmest.
Humidity
Humidity is the amount of water vapor in the air while relative humidity is the percentage of water vapor in the air at a given temperature. In the Philippines, relative humidity is high, therefore making the hot temperatures feel hotter. High relative humidity in the country is due to three factors: the evaporation of seas surrounding the country, the different prevailing winds in the different seasons of the year and of course, the significant amount of rainfall which is normal in tropical countries.  It's not the heat … it's the humidity that makes you feel uncomfortable … It's important to understand HUMIDEX …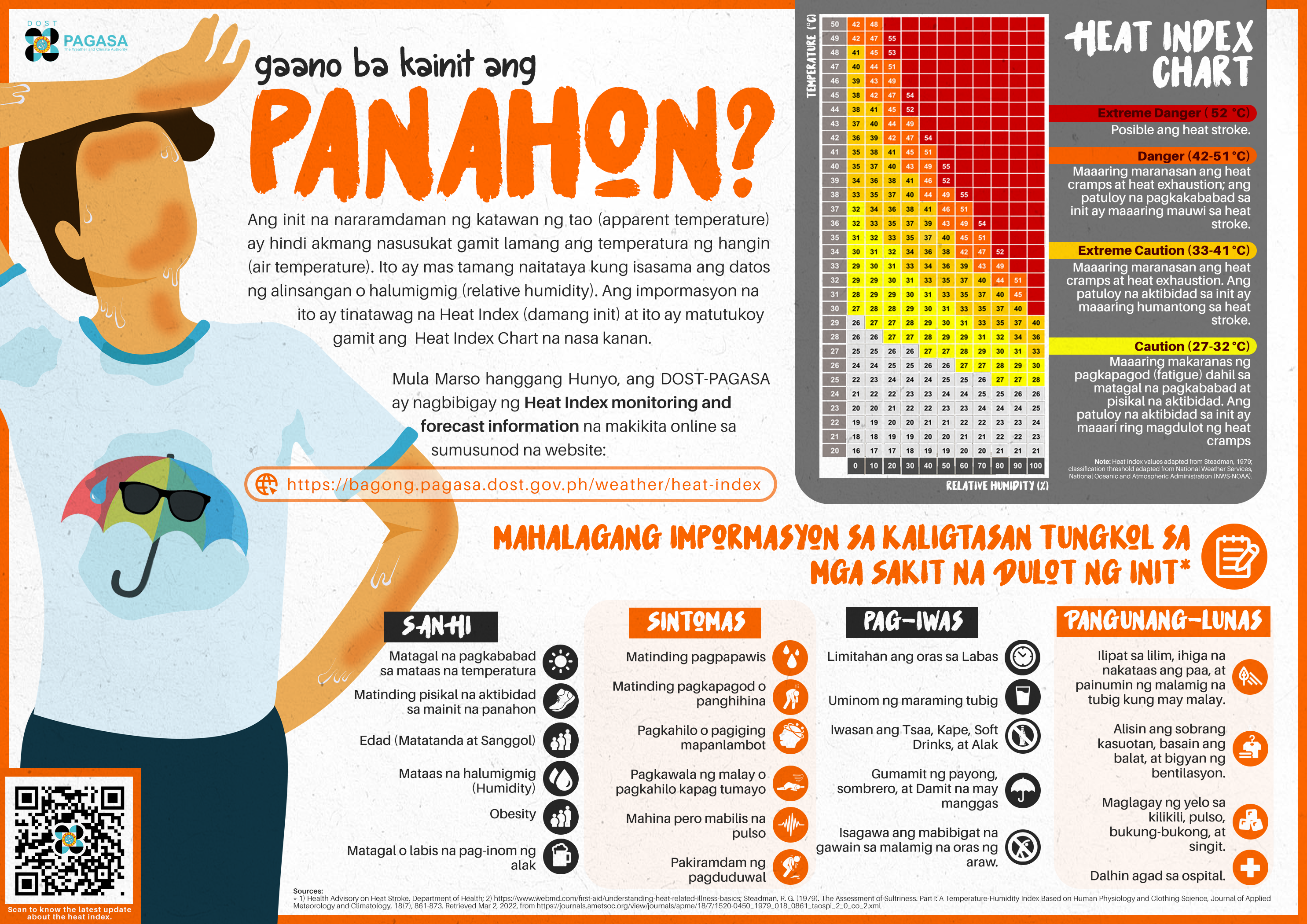 Heat Index | Image Source
Rainfall 
As a tropical country, the Philippines gets a significant amount of rainfall throughout the year. The southwest monsoon, also called summer monsoon, brings heavy rains from June to November. The annual average rainfall varies by region with mountainous east coast getting as much as 5,000 millimeters (197 in) while sheltered valleys get less than 1,000 millimeters (39 in).
Tropical cyclones bring at least 30% of the annual rainfall in the Northern Philippines.
Typhoons
Considering that the Philippines sits across the typhoon belt, the country gets an average of 28 storms and/or typhoons every year but only an average of nine made landfall or crossed the country. The areas at higher risk of typhoons include northern and eastern Luzon, Bicol region, and Eastern Visayas region, however, Manila may be affected as well.
PAGASA's Tropical Cyclone Intensity Scale