From the mysterious depths of dense forests to the sun-kissed fringes of remote islands in the Philippines, these rare edible native fruits await your discovery!
The Philippines is a tropical paradise blessed with magnificent water bodies and unique landforms teeming with a diverse flora and fauna, including a wide variety of native edible fruits.  These fruits not only contribute to the country's rich biodiversity but also play a significant role in traditional cuisine, culture, and livelihoods.
Out of hundreds of fruits in the Philippines, less than a hundred are known, only 20 are economically important, and only five of which are considered major.  The rest are known only to few people in the Philippines and those that have seen or tasted these rare edible native fruits are even fewer.
Here are some native edible fruits that you may not have heard of and are rare to find in the Philippines.
1 | Alingaro
Scientific name: Elaeagnus triflora Roxb.
Alingaro, also called Lingaro in some parts of the Philippines, is native to the Philippines but is also found in Australia, Malaysia, New Guinea, and Taiwan.  It is a straggling or climbing shrub with long branches.  The shape of the leaves is oblong and either pointed at both ends or blunt at the base while the color is shining and dark green above and coppery underside, just like the leaves of star apple (locally called caimito).
The fruit, which is pale red or pinkish, is sweet and juicy when ripe and can be eaten raw or be made into jam and jelly.  Its seed, with peanut-like taste, can be eaten as well.  Alingaro is reportedly high in lycopene, actually four times higher than any other plant in the world, and is also a natural remedy for cough and amoebic dysentery.
Alingaro is also culturally-significant in Benguet having been used as offertory wild fruit.
2 | Bayag-usa
 Bayag Usa | Image Source
Scientific name: Voacanga globosa
Endemic to the Philippines, bayag-usa is a tree that grows up to three meters in height.  Its fruit comes in pairs and resembles the scrotum of a deer, thus the name.  The skin of the fruit is dark gray while the smooth pulp covering the seed is reddish-orange and tastes bitter.  The fruit is used as an antidote for poisoning and in the treatment of ulcers, wounds, and tumors.  The leaves can be made into a paste and applied to the forehead as a natural remedy for fever and spasmodic pains.  The leaves also possess antimicrobial, anticholinesterase, antibacterial, antifungal, and anti-cancer properties.
3 | Galo
 Galo | Image Source
Scientific name: Anacolosa frutescens
Galo, also called aluloy, matobato, and salungugapit, is a medium-sized tree that grows as high as 25 meters.  Its leaves are narrow and measure between 7 to 15 centimeters long while the flowers are white and measure about three millimeters in diameter.  The green fruit is round to oblong and turns yellow or orange when ripe.  The pulp surrounding the seed can be eaten raw or boiled while the seed can be boiled or roasted.  The taste of the pulp is likened to that of avocado's while the seed tastes like a combination of sweet corn and chestnuts.
4 | Hagis
 Hagis | Image Source
Scientific name: Syzygium tripinnatum (Blanco) Merr 
Hagis is a medium-sized tree that grows as high as 20 meters.  Endemic in the Bicol region, its fruit turns cherry red when ripe.  Its pulp is white and tastes juicy yet sour.  It can be eaten raw on its own or dipped in salt or sugar to neutralize the sour taste.  The fruit of hagis can also be juiced or made into jam and jelly.
5 | Kabuyaw
Scientific name: Citrus hystrix DC.
Kabuyaw, also called kulubot, kobot, piris, kafir lime, makrut lime, and wild lime, is native to the Philippines and some other countries in Southeast Asia.  It's a small, slender tree with smooth oblong leaves and small flowers.  The round fruit of about 10 centimeters in diameter has thick rind and white flesh that tastes sour.  The flesh is squeezed to make juice for drinking or food seasoning.  The juice is also used as a natural remedy for abdominal pains, dizziness, fever, flu, hypertension, and indigestion as well as to eliminate body odor.
6 | Katmon
Scientific name: Dillenia philippinensis Rolfe
Found only in the Philippines, katmon is a tree that can grow as high as 15 meters.  Its leaves, with a leathery texture, are elliptic and measure between 12 to 25 centimeters long.  Its white flowers measure about 15 centimeters in diameter while its rounded fruit is between six to eight centimeters.  The pulp, tightly enclosed with large fleshy sepals, has a flavor similar to a sour green apple.  It is used to make sauces and jams as well as for flavoring fish dishes, particularly sinigang.
Aside from its culinary uses, the fruit is also used as a natural remedy for cough, chest pain, and fever as well as hair cleanser.  The leaves and bark, reportedly with antimicrobial, anti-inflammatory, analgesic, antidiabetic, and hypoglycemic properties, are used as laxative and astringent 
Katmon, which has been featured on the reverse side of Philippine 25-centavo coin since 2018, has a conservation status of nearly threatened.
7 | Libas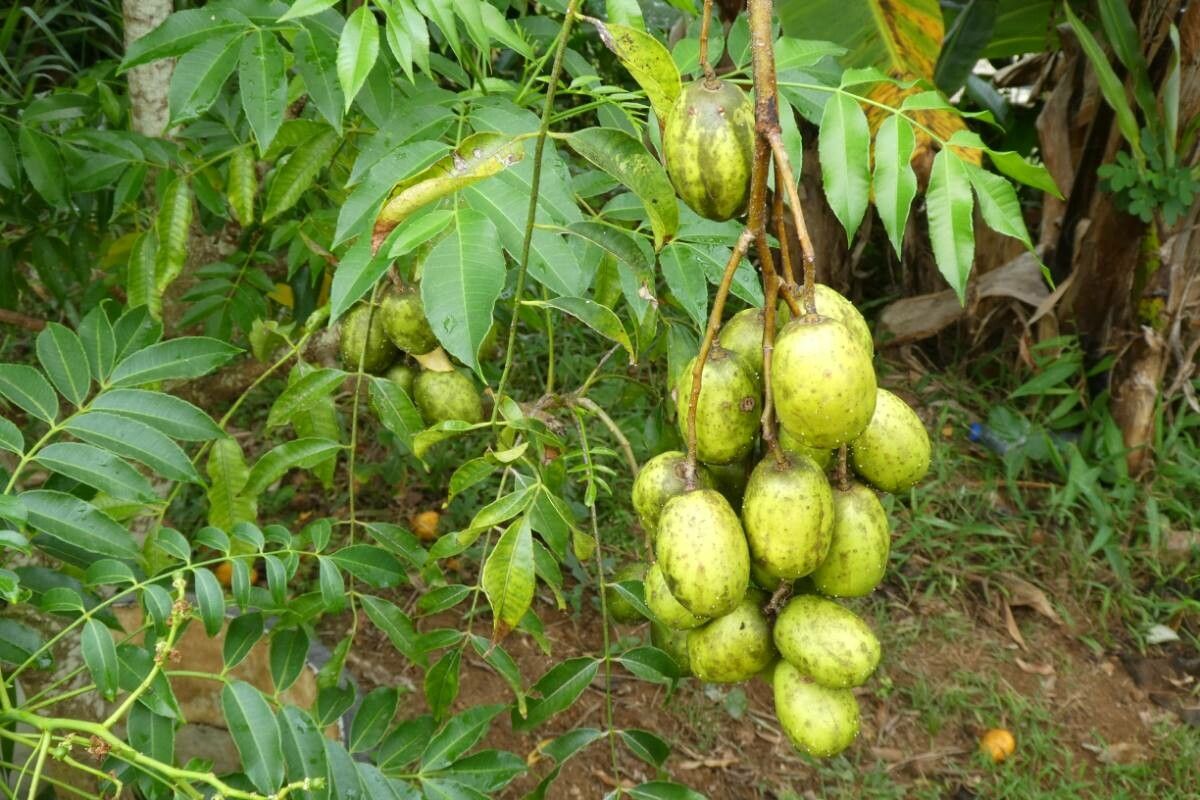 Libas | Image Source
Scientific name: Spondias pinnata (Linn. f.) Kurz.
Libas, also called lubas (Bicol), lano (Cagayan), forest mango (English), and wild mango (English), is a medium-sized tree that grows as high as 25 meters.  The shiny leaves, which are pointed at the apex, measure between seven to 14 centimeters in length.  It has a rounded fruit with edible pulp.  Aside from the fruit, the young leaves and flowers are edible as well and are often used as a souring agent.  Local dishes such as laing, sinanglay, and nilaga use young leaves and stems while the fruit can be made into jams, jellies, and juices.
Various parts of libas can also be used as alternative medicines for burns, sores, wounds, diabetes management, diarrhea, and vomiting.  Unripe fruit is also said to be an aphrodisiac.
8 | Lipote
Scientific name: Syzygium polycephaloides
Lipote is a small to medium-sized tree with white flowers and subglobose fruit that is red to purple when ripe.  The fleshy pulp of its fruit is edible and can be eaten raw or cooked.  It can also be made into jellies, pickles, and beverages such as wine.  In addition to its culinary uses, lipote is also used as an alternative remedy for cough, diabetes, hypertension, and high cholesterol.
considered potentially endangered, lipote grows at low and medium altitudes.
9 | Sapinit
Cover Photo Credit
Scientific name: Rubus moluccanus Linn.
Sapinit is a climbing, straggling shrub that grows to a height of two to three meters.  Its branches are covered with wooly hairs while the stem, buds, and lower surfaces are velvety.  The upper surface of the leaf is hair as well and the round, bright red fruit has a hairy receptacle.  Also known as dagamit, kobot, siit, wild raspberry, and broad leaf bramble, sapinit has various uses.  The fruit is used in jams and sauces while the root and leaves help in the management of diarrhea, hypertensive, and wounds.
Considering their uses and significance in the culture of the Philippines, these rare edible native fruits must be preserved for the generations to come.
READ MORE: Popular Tropical Fruits in the Philippines