Tips on Booking a Hotel
We all dream of traveling to tropical and exotic destinations and staying at unique accommodations, but nobody likes to break his/her wallet on a holiday.  When booking a room at a hotel, you will have to choose whether you want the cheapest price for that room, or whether you want to pay more for enjoying extra perks and/or flexibility.  The following are our tips for saving money and getting the best deal at a hotel.
Think I forgot one? Share your own travel tips in the comments section or take our poll below.
INSPIRATION FOR FINDING THE RIGHT HOTEL
Be inspired by our Philippines travel blog.  Every week, we post a new destination guide and reviews of accommodations.  You can subscribe to our newsletter (1x/week) and/or follow us on FaceBook, Twitter, and/or Instagram.  Each Saturday, we also publish a full tour of a hotel on our popular YouTube channel.
Visit Kiwi Collection, a great website featuring the finest luxury hotels in the world.
Read travel magazines, such as the Conde Nast Traveler, Travel & Leisure, and Islands.
Read TripAdvisor reviews.
Read Flyertalk reviews (google the name of the hotel + flyertalk).
Watch YouTube clips of hotels (you can find some examples on our YouTube channel).
TIPS FOR WHEN TO BOOK
Do not book too late as the popular hotels will often sell out months in advance.  Do not count on a last-minute deal because they are not offered by popular hotels anyway.
When you want to save some bucks, travel in the shoulder season (e.g. summer months for the Caribbean, autumn months for the Maldives, and winter months for the Philippines), but try to avoid the worst months weather-wise as you may find yourself very disappointed despite the fact that you saved a lot of money!
TIPS FOR BOOKING A ROOM AT THE LOWEST PRICE
Most of the time, the lowest room rate can be found on the aggregator websites Trivago and HotelsCombined.  These aggregators verify hotel prices at hundreds of other hotel booking sites (e.g. Agoda, Booking.com, Hotels.com, Expedia, Hotelopia.com, eBookers, etc.) and show where you can book the cheapest rate.  Try it out for yourself here: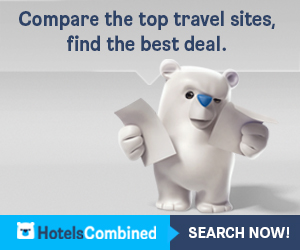 Always compare the price that you found on aggregator or member-only websites with the one featured on the official hotel website to make sure that it is the best price indeed.  Do not forget to click the "special offers" section that is present on most hotel websites (and which can save you lots of money).
If you find elsewhere a lower price than the one offered on the hotel website, make use of a Best Rate Guarantee.  Not only will the lower room rate be matched, you will often receive an additional discount as well (of up to 25%)!
Make use of discount coupons that you can find anywhere on the internet (google the website of hotel name + coupon).  For example, Hotels.com is one of our prefered hotel booking websites that regularly sends out 10% discount coupons by email (albeit not for the big hotel chains though).
Except when staying at one of the big hotel chains (Starwood, Hyatt, IHG, Marriott, Hilton), when possible I try to book our hotel stays through Hotels.com in order to earn a FREE stay.  In a nutshell: Hotels.com is not only very generous in matching the best price that you may have found on other websites, but you also collect credits towards FREE hotel stays and they have always have discount coupons to offer.
Sign-up for the newsletters of your preferred hotel (chains) or booking website.  They often email coupons or advanced notifications when they're having a sale.
Stay for FREE by using hotels points and credits that you collected in a hotel loyalty program.
Stay for FREE or at a highly discounted rate by keeping an eye out for erroneous rates on this Flyertalk post.
TIPS FOR BOOKING A ROOM WITH (FREE) EXTRA PERKS
Some of the world's most exclusive hotel brands (e.g. Aman Resorts) will only display the best rates on their official hotel website (so do not waste your time trying to find a lower price on an aggregator or member-only website as you won't find one).
Check the hotel website directly for packages that include extra perks like spa credits, breakfast, or complimentary nights.
Holders of an American Express Premium or Visa Signature credit card can also benefit from extra perks when they make the booking via their credit card travel office and/or pay with their credit card. Contact your local credit card company to find out whether they offer this travel service.
Elite members of hotel loyalty programs will receive several benefits during their stay, ranging from late check-out and complimentary WiFi to suite upgrades and breakfast.
Elite members of Cathay Pacific's frequent flyer program (Marco Polo Club) are entitled to special benefits (e.g. early check in, late check out, room upgrade, complimentary breakfast) with partners such as Hilton, Hyatt, Fairmont, Marriott, Langham, Mandarin Oriental, Shangri-La, Swissotel, Peninsula, Swire and Ritz-Carlton.  While some of these deals only apply to hotels or rentals in the Asia-Pacific region, others do not; the Mandarin Oriental benefit is applicable worldwide, for example.
TIPS FOR STAYING FOR FREE AT A HOTEL
You can always try your luck to score a complimentary stay at a hotel by reading our tips for getting FREE hotel nights.
KEY POINTS
Inspiration: this website.
When money is an issue: book outside the high season.
Cheapest room rate: mostly found on HotelsCombined, Trivago, and/or the official hotel website. Always check all 3 of them.
Best Rate Guarantee: match a lower rate and receive an additional discount.
FREE extra perks: book a package on the hotel website, through a Virtuoso travel agent, or via your credit card travel office.
Complimentary stay: subscribe to a hotel loyalty program.
Our preferred hotel booking websites: Agoda, Booking.com, and AirBnB.